`

Dear Friend,
For weeks, I've been working with a group of Republicans and Democrats in the Senate to negotiate a bipartisan deal to invest in our nation's aging infrastructure. Last Thursday, we went to the White House, where we reached an agreement with President Biden on a $579 billion blueprint to modernize our infrastructure, create millions of good-paying jobs, and improve American competitiveness. Today, I wanted to reach out personally to share a little bit more about what's in our plan: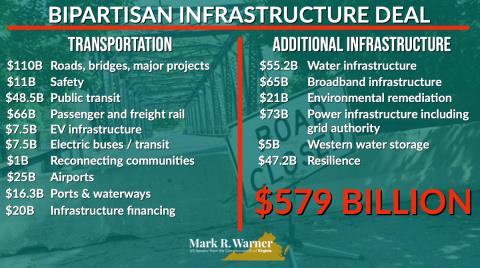 Today, 1 in 5 miles of our most important roads are in poor condition, and forty percent of the bridges in this country are at least 50 years old, leading to traffic congestion and safety issues that cost the average American $1,000 every year in wasted time and fuel. Our bipartisan infrastructure framework tackles this challenge head-on by investing $110 billion in new funding to repair our roads and bridges – the largest such investment since the construction of the interstate highway system – and $11 billion to improve transportation safety.
For years, we've let other countries out-compete and out-invest us when it comes to transportation. China already has 22,000 miles of high-speed rail, and is planning to double that by 2035. Our plan sets aside $66 billion to modernize Amtrak and expand rail service across the country. It also includes $48.5 billion to fix public transit by making overdue repairs and building new transit to help people get to work and better, higher-paying jobs.
While the U.S. pioneered air travel in the 20th century, today, our aviation infrastructure lags behind those of other developed nations. Not a single U.S. airport ranks in the top 25 worldwide. Our post-pandemic recovery will require world-class airports to once again welcome travelers and well-functioning port and freight networks to move goods to markets, which is why our bipartisan plan invests $25 billion in airports and $16.3 billion for ports – like the Port of Virginia – to improve U.S. competitiveness and allow us to continue leading the world in the 21st century.
In 2021, access to high-speed internet isn't a luxury – it's a necessity, just like electricity. But today more than 35 percent of rural Americans lack access to high speed internet. In Virginia alone, 700,000 people don't have access to broadband. Our bipartisan infrastructure framework invests $65 billion to deliver affordable, high-speed internet to every American.
In Virginia, we're on the front lines of the climate crisis. Rising sea levels are already testing streets and homes in Norfolk and Virginia Beach, with flooding and extreme weather events costing communities, businesses and families millions every year. Our plan invests $47 billion to help places like Hampton Roads upgrade their infrastructure to prepare for the impacts of climate change. While we still need to do more to tackle climate change head-on, this infrastructure deal represents a major step forward towards a cleaner, greener energy future, setting aside $7.5 billion to build out a national network of electric vehicle chargers, and another $7.5 billion to replace polluting diesel buses with clean, American-made, zero emission buses.
In addition to some of the areas I've already outlined, our plan also includes billions to replace aging water pipes and treatment facilities, upgrade old power grids, and more. Altogether, this bipartisan infrastructure framework represents the largest long-term investment in our infrastructure in nearly a century. While it doesn't include everything I wanted to see in an infrastructure deal, I believe that this bipartisan agreement is an important down payment on our country's economic future, and I look forward to getting it passed into law.
If you want to share your thoughts about an issue that's important to you, you can send me an email any time using the form on my Senate website. You can also follow me on Facebook and Twitter. I look forward to hearing from you.
Sincerely,

WHAT DO YOU THINK?
Sen. Mark R. Warner
Washington, DC
703 Hart Senate Office Building.
Washington, D.C. 20510
Tel: (202) 224-2023
PREPARED, PUBLISHED, AND MAILED AT TAXPAYER EXPENSE
---