Robert,
Black History Month is a time dedicated to learning about the vital role African-Americans played in shaping our great country's history. From the first black person elected to public office in 1641 to the sacrificial leadership of the Rev. Dr. Martin Luther King during the Civil Rights Movement, the American Journey Experience (AJE) tells the amazing true stories of the black heroes in our nation's history from the very beginning. The AJE Collection is home to many incredible artifacts that showcase the central role African-Americans have played in building the values our nation holds dear including several items related to the great educator Booker T. Washington.
Booker T. Washington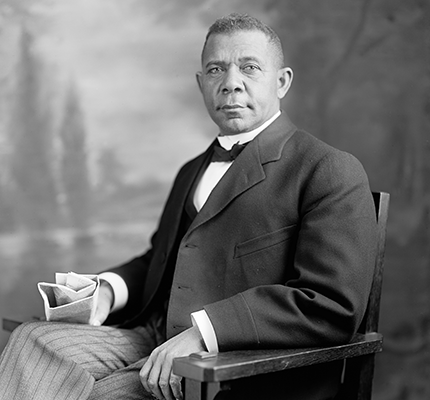 Booker T. Washington (1856-1915) was a leading educational reformer, best-selling author, political voice, and prominent activist. Born into slavery, he was freed at nine years old by the Emancipation Proclamation when Union troops liberated him and his family. Moving to West Virginia, Washington taught himself how to read from a Webster's Blue-Back Speller. This gave the young man a thirst for knowledge, and he quickly proved to be extremely gifted. Through tireless effort and unyielding dedication, he attended Hampton Normal and Agricultural Institute and graduated from Wayland Seminary.
As a well-educated, 25-year-old free man, Washington was appointed as head of Tuskegee Institute in Alabama in 1881. Under his leadership the Tuskegee institute rose to prominence in the education of black students in academics and vocations for the dissemination of knowledge amongst black Americans. In his own words, Washington believed that, "education, whether of black or white man, gives a man physical courage to stand in front of the common, and facts to give him courage to stand up in defense of right and justice."
During his 34-year tenure, Washington became a leading spokesperson for black Americans in demonstrating the power and need for increased education for all people. He observed the poor living conditions of the freed black people and knew that the best way they could elevate their circumstances was by becoming invaluable to their communities through education, workforce skills, and economic capacity.
Booker T. Washington was heavily involved with the Republican Party and famously dined at the White House with Republican president Theodore Roosevelt in 1901. Being an exceptionally skillful public speaker, he traveled the nation speaking to groups about the successes of the Tuskegee Institute and raising money to expand opportunity to more people. Washington's methods of achieving individual merit through education inspired many who sought peace in a divided society to advance the cause for racial equality. In the AJE Collection you can find early edition copies of Washington's autobiography Up from Slavery as well as items from the Tuskegee Institute and an original mold for making statues of Washington himself.
All month long The American Journey Experience is highlighting American heroes who embody the best virtues of America such as Booker T. Washington. All year long, however, we are always dedicated to teaching the exceptional true history of our nation. Thank you for supporting our educational initiatives and enabling us to share the history others are trying to erase.
The American Journey Experience
To Learn More about the American Journey Experience please go to americanjourneyexperience.com
You are receiving this email because you elected to receive marketing communications from Mercury One under the terms of our Privacy Policy.

You may unsubscribe from this list if you no longer wish to receive email marketing communications from Mercury One



Mercury One | PO Box 140489 | Irving, Texas 75014


Unsubscribe from receiving email, or change your email preferences.